It's been ages. You are all probably married with 4 kids, driving a mini-van and living in some rich house on the coast since the last time I wrote anything here. But I'm going to try to blog more often, and by more often, I mean when I have the time. I can't commit to a blog schedule just yet, but we will see what happens in the future.
But, without further ado, I am going to put this disclaimer out there. Everything you are about to read are my own thoughts/ideas and by no means represents those things I am associated with (FrozeNerdz, Knights of Ebon, etc.).
So below you will find a image that is a "comparison" of the previous World of Warcraft expansions. I did not make this image, or do I know where it game from, even though I did some searching. But yeah, that's the comparison of the expansions so far.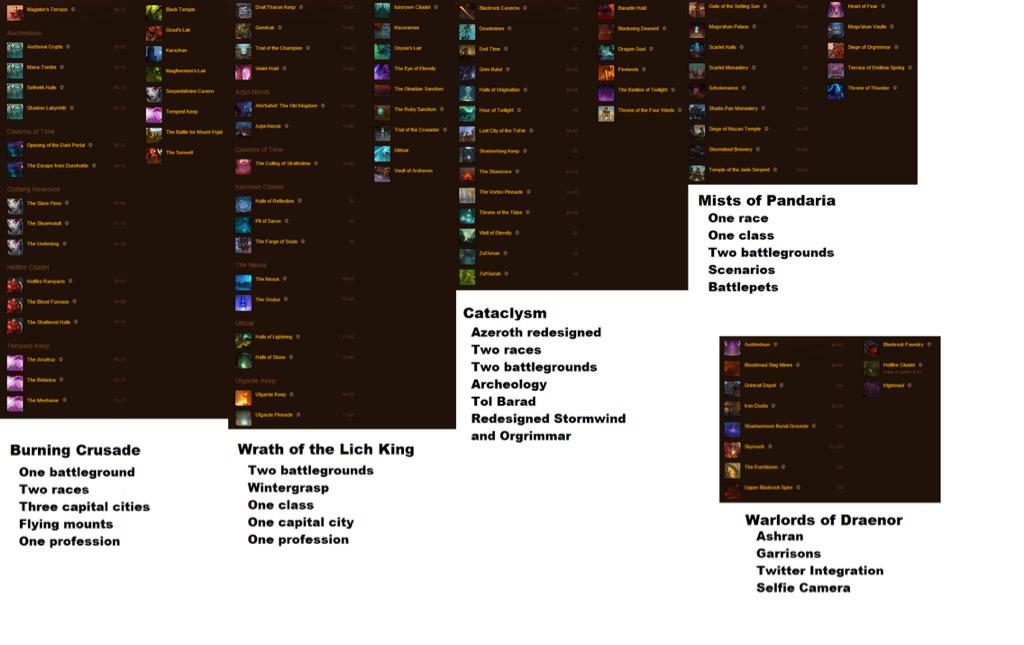 But when I look at this image, I see that it seems to be missing more vital information that doesn't seem to be considered. A lot of people are using this above image to explain why World of Warcraft: Warlords of Draenor costs 10$ more than previous expansions ($49.99). So in this blog, I'm just going to throw out some ideas about what people aren't remembering, or considering when they complain about paying 10$ more for an expansion.
Warlords included a Free Boosted level 90 character with the basic edition. This feature normally costs $60. So, you saved $50 on a service that does cost Blizzard money to preform. So you saved the price of a previous expansion. Sure it cost 10$ more, but a lot of times we pay additional money for bundles because we are going to save a large amount in return.
So now, I want to break down the above graphic, starting with Burning Crusade:
One Battleground (Eye of the Storm)
Two races (Draenei, Blood Elves)
Three Capital Cities (Exodar, Silvermoon City, Shatrath)
Flying Mounts
One Profession (Jewelcrafting)
Two World Bosses (Kazzak, Doomwalker)
16 New Dungeons: (Hellfire Ramparts, The Blood Furnace, Shattered Halls, Slave Pens, Underbog, Steamvault, Mana-Tombs, Auchenai Crypts, Sethekk Halls, Shadow Labyrinth, Mechanar, Botanica, Arcatraz, Escape from Durnholde Keep, Black Morass, Magisters Terrace)
10 of which were for leveing: (Hellfire Ramparts, The Blood Furnace, Slave Pens, Underbog, Mana-Tombs, Auchenai Crypts, Sethekk Halls, Mechanar, Escape from Durnholde Keep, Black Morass).
Nine New Raid Zones: Karazhan (12), Gruul's Lair (2), Magtheridon's Lair (1), Serpentshrine Cavern (6), Tempest Keep (4), Battle for Mount Hyjal (5), Black Temple (9), Zul'Aman (6), Sunwell (6)

Things they forgot:
Four New Player Models
52 Total New Bosses
3 Arenas (Ring of Trials, Circle of Blood, Ruins of Lordaeron)
Guild Banks
Daily Quests
12 New Zones: Outland (7) + Azuremist Isle (2) + Eversong Woods (2) + Isle of Quel'danas (1)
10 Levels
Length of Expansion: 21.9 Months (Short of two years).
Common Complaints: Attunements are too hard, Arena class balance – only some specs viable, Pre-raid gearsets (clown suits), Faction grinds for required enchants, Sunwell too hard for most players (pre-3.x patch), Long delays between individual raid releases, Quel'danas 'Welfare Epics', PVP balance.
Wrath of the Lich King:
Two Battlegrounds (Strand of the Ancients, Isle of Conquest)
One New Class (Death Knight)
One Capital Cities1 (Dalaran)
One Profession (Inscription)
16 New Dungeons: (Utgarde Keep, Utgarde Pinnacle, Azjol-Nerub, Ahn'kahet,The Nexus, Drak'Tharon Keep, The Oculus, Violet Hold, Gundrak, Old Stratholme, Halls of Stone, Halls of Lightning, Trial of the Champion, Forge of Souls, Pit of Saron, Halls of Reflection)
10 of which were for leveing: Utgarde Keep, Azjol-Nerub, Ahn'kahet, The Nexus, Violet Hold, Drak'Tharon Keep, Gundrak, Old Stratholme, Halls of Stone, Halls of Lightning
9 New Raid Zones: Naxxramas (15), Onyxias Lair (1), Obsidian Sanctum (1), The Eye of Eternity (1), Vault of Archavon (4), Ulduar (14), Trial of the Crusader (5), Icecrown Citadel (12), Ruby Sanctum (1)

Things they forgot:
Four New Player Models
54 Total New Bosses
2 Arenas (Ring of Valor, Dalaran Arena)
10 New Zones: Northrend (9) + Ebon Hold/DK Start zone (1)
10 Levels
Length of Expansion: 24.8 Months (Just over two years).
Other: Achievements, Improved Dungeon Finder, Barbershop, Dual Talent Specs, Race & Faction Changes, Battle.net Integration, Hard Modes – Normal/Heroic Raid Difficulty selection, Vehicles, Phasing, "Learnable" Mounts (previously items), Druid form revamp.
Common Complaints: Naxxramas is rehashed content, initial raid content lacking, Very long wait without new content, Trial of Crusader and Ruby Sanctum raids seen as time filler, Heroics too easy, Wintergrasp (lag, faction imbalance, can't get Vault on some realms/factions), Class balance: DKs initially OP, PVP balance.
Alright, since Cataclysm nor Mists of Panadria didn't offer more than Burning Crusade, or Wrath of the Lich King based on the stats, I'm going to save you the repeat of information. Now onto Warlords of Draenor.
The image above shows that we only received 8 new dungeons, 3 new raids, Ashran, Twitter integration, selfie camera, and garrisons in Warlords. But there was actually a lot more (Even if you don't agree with them, or didn't enjoy them, they were still there).
Flexible Raids v2, Mythic Raiding
LFG Tool v3 — Upgraded.
Item Autoscaling v2 (Timewalking, PVP Gear Autoscale)
New Character Models — All revamped besides Goblin/Worgen.
Follower / Fleet missions
Collections Interface (Toy box, Mounts, Heirlooms)
Weekend Events
Ability Squish, Stat Squish
Mercenary Mode
Darkmoon Races

Warlords had:
10 Zones: Draenor (7) + Ashran (3)
2 Capital Cities: Stormshield, Warspear  (Small). (1 More than Wrath of the Lich King, and 1 less than Burning Crusade).
New Player Models: 20 (16 more than Burning  Crusade/Cataclysm).
30 Raid Bosses (1 less than Cataclysm)
4 World Bosses: Drov, Tarina, Rukhmar, Kazzak. (1 Less than Mists, 2 more than Burning Crusade, 4 more than Wrath of the Lich King/Cataclysm).

What Warlords didn't have:
No New Battlegrounds Added
No New Arenas Added
No New Classes Added
No New Races Added
Common Complaints: Living in Garrisons, Playing the UI not the game, Ashran (seen as required, general gameplay issues – events or boss), No new class/race, No flying (love or hate), PVP balance.

Burning Crusade was released on January 16th, 2007. If you bought BC for $49.99 in 2007, it would have costs $57.08 in 2014 based on US Inflation. But, our World of Warcraft subscription cost $9.99 per month since 2004. But it hasn't changed. But since it cost $9.99 in 2004, it should cost $12.62 today (26.3% increase) based on US Inflation. But the World of Warcraft subscription hasn't changed since 2004. Since 2004, the Dollar Menu has changed, the cost of gasoline, the cost of postage, and may other things. But the WOW subscription hasn't changed. 
So if you don't think that the quality of the expansion is the same was a previous one, or that Warlord's is the worst expansion released to date, you are entitled to your opinion.
We can't put a price on content because the people hours behind the content is an ever changing price and time difference. What takes me 1 hour to do could take you 15 minutes, or 3 hours. The employee's are Blizzard Entertainment are the best in the industry. They are not some of the best, or most of them are the best, they are the best. From the artist who bring the vision of the world to life, to the developers who code the game to life, or to the designers who come up with the ideas. They are best in the industry. So to say that the content we are getting isn't worth a 10$ price increase, or that it's not as big as the previous expansions doesn't seem relative.
The average months of the previous expansions is 23.475 months (Just shy of 2 years). But we are already looking at a expansion announcement on August 5th at Gamescom. And probably a Beta announcement at BlizzCon. And a release 6 months later. Which would make this expansion last about 18 months which is still shorter than any of the previous expansions so Blizzard would technically be releasing content faster then previous content release.
So the next time you want to complain about Warlords of Draenor, think about all the things it actually brought to the game. Things have changed in every expansion, and things will continue to change in the future ones. But when the smoke clears, why are you playing video games in the first place? Are you a paid video game analyst? Is it your job to break down every in and out of World of Warcraft? Most of you are just your average person playing a video game from the comfort of your own home and you are doing it for free. Playing Video Games is not your job and neither is it mine. So let's have some fun inside the video game, and enjoy the time we have with friends.
If you are no longer enjoying the game, then cut ties and move on to something you enjoy more. But do it without throwing a fit, or demanding repayment for the "lack of content."
Want more information about previous expansions: Check out this Google Doc on Reddit: https://www.reddit.com/r/wow/comments/3eobtc/expansion_content_a_more_complete_comparison/